Love Yourself – Everything Else Will Fall Into Place
Do you have the power to love someone with all you got ?
Can that person be you?
Our whole life we have been very keen on giving others the love they need and shower them with warmth and kindness but along the narrow way we have forgotten to love ourselves and put our needs before others.
Yes, today we are gonna talk about loving ourselves to the maximum that no Brutus can separate our love from us.
We have always found it very ecstatic to love someone with every tiny droplet of blood in our body but have you realized that the person should be you before anyone else.
In the recent times the society has set high standards in love from cheesy Instagram couples post to making us believe we all need a partner who will bring us light in the dark tunnel and guide us outside.
We believe what we see online is the truth and a couple who posts a lot and travels together or eat together are happy and so in love! But is that the truth? We never know what goes on behind closed doors. A couple may truly be happy or they may not.. Let's not be to soon to judge anyone.
But one most important thing is, don't we have to love ourselves completely in the first place to love someone and let someone love us. Self love is all about loving yourself in your own skin ,in your own body and in your own mind.
In the current generation of people social media and movies plays a medium of setting high standards about one self that we have come to the point where perfection is beautiful.
But being flawed is frowned upon.
From children to adults suffer from insecurity , anxiety , depression and many other psychological trauma due to lack of love for themselves.
But it's time we let ourselves understand what we feel and accept the feeling and let our heart and soul be the psychiatrist to the mind .
Once while strolling through a park in a nearby neighborhood I happen to witness a small girl about the age of 3-4 trying to get on the swing which was slightly taller to her petite size, and when her father tried to help her get on the swing she refused his help and tried getting on it by herself .
The first few tries she was not able to get on the swing and she even ended up scratching her tiny elbows but somehow after sometime she got on the swing and looked at her father with happy eyes, who was looking at his daughter with a huge smile.
The incident stuck in my mind for so long that it made me wonder the tiny girl could have given up and asked her father to do the task of lifting her up to the swing but her confidence in herself astonished me .
She knew she could , she trusted herself in the first place to get on the swing and she was not ready to give up on herself even after bruising herself.
The same goes for self love at times we should believe we can do the 'impossible ' the society has told us about and not trust our own strength .We all know that trust is the most important characteristic when in love with someone or when in love with your own self.
Trust you can do it and one day you will do it.
Low self-esteem
We all have this tiny voice inside our head which could turn happiest hour to a sour noon and vice versa.That voice which feeds us the emotions and words is no one else apart from yourself. Learn to love the voice inside so it could reciprocate the love.It may take some time for the love you give around to come around but at the end it will be worth it.
Flawed but beautiful
Get accustomed to yourself and accept things about yourself the way they there instead of having this constant need to change it so that others could love you. The love you seek from others is the love you should give yourself . The society may pinpoint you for being a queer but you are being you. Break the standards society has set up on you and see yourself through your own eyes of what you want for yourself instead through others eyes of what they expect from you.
Acknowledge your identity
Recently I read an article about same gender marriage and the photos attached to it made my heart swell with warmth and love for the couple. They came to know they are in love with each other because of the love they had for their own selves. If they didn't have the courage to accept themselves and love the way they are, their personalities would have been hidden inside a crowded closet of trauma and heart aches. And most probably they wouldn't have had the chance to fall in one with each other and fight against the whole world of misconceptions and unasked opinions.
Embrace your own self.
On a daily basis we see ads about how to have a fair complexion and how to reduce those extra weight, the society thinks we possess but the most important part is that we tend to believe those instead of our own capabilities. We forget or don't want to see that the actress advertising have been layering her whole face for a whole day to appear flawless.
We often look into the mirrors to find flaws instead of appreciating the fading scar somewhere on own skin the cute tiny mole you want to accept is adorable . Look into the eyes of the person inside that mirror and say 'I love you' and the love will be reciprocated without a single blink of an eye. That's our soul accepting whatever we throw at it and reflecting that. If you dislike your own self for being different from the unbearably high expectations from others it you who is going to lose the most important person in your whole life and that someone for this once is going to be you. Embrace your flaws smile at the person In front of the same mirror and give the person a pat on the head and fall in love like your falling asleep slowly, but altogether ( modifying John green's quote).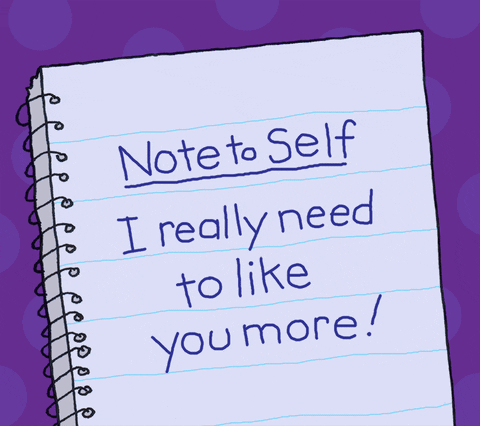 Love yourself and appreciate your own self and everything else around will automatically fall into the place as destined to be.